Part B - The Cervical and Thoracic Spine
Part B - The Cervical and Thoracic Spine
11.05.2023 - 14.05.2023
Hotel Suba International, Mumbai
This 28 hour course includes similar principles and practice of Part A - Mechanical Diagnosis and Therapy – Lumbar Spine, however during this course the focus is related to the Cervical and Thoracic spine. As these spinal areas often identify differing issues to the lumbar spine the discussion and points of learning can be very different.
Background knowledge of Mechanical Diagnosis and Therapy related to these areas of the spine will be discussed, patient presentations/demonstrations of assessment and management will be given and manual therapy techniques demonstrated and practiced with discussion related to the appropriate use of the techniques.
INDEMNITY BOND DECLARATION FORM
View Overview
Details
Date and time
Start 08.00 Thursday 11 May 2023
End 17.00 Monday 14 May 2023
Hotel Suba International
Plot # 211, Chakala Sahar Road, Andheri
Mumbai, East Mumbai - 400 099
India
Fees
32,500 /- including GST

Direct Bank Transfer details : The payment made must be net of all bank charges.
Axis Bank - Branch - Ground Floor, Poonam Residency, Shanti Park,
Mira Road East, Mumbai 401107.
Account Name: McKenzie Institute India
Account number: 913010037508085
Account Type: Savings
IFSC - UTIB0001842
Swift code-axisinbb018

Spaces available
25 spaces
Additional Information
Eligiblity: Part A registration or completion
Lecturer profile
Devang Dharek
B.P.Th, Dip. MDT, MIAP., P.G. Dip. CVR., CMP.,
Devang Dharek graduated physiotherapy from Rajiv Gandhi University of Health Sciences in 2007. After graduation he completed his PG diploma in Cardiovascular Rehabilitation from the University of Chester. He has been in private clinical practice since 2008.
Devang completed his MDT Certification and Credentialling Exam in MDT in 2012. He has been a mentor and plays an active role in organising McKenzie study groups in Mumbai since 2012 after completion of his Credentialling exam. He has presented several topics and case presentations in MDT Indian branch conferences. He has presented MDT overviews across India and presented lectures on MDT at various conferences. Currently, he is a Faculty from India since 2023.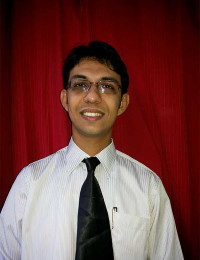 Venue and address
Hotel Suba International
Address
Hotel Suba International
Plot # 211, Chakala Sahar Road, Andheri
Mumbai, East Mumbai - 400 099
India